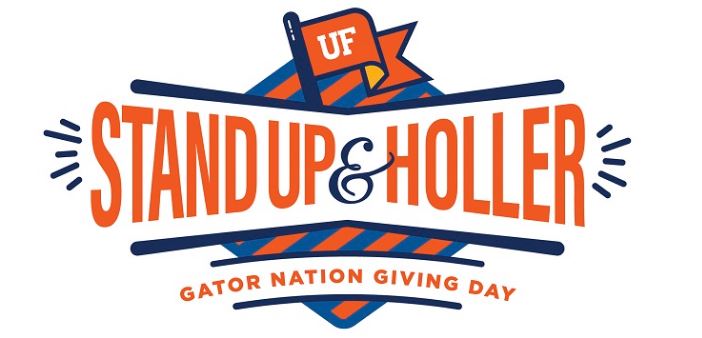 Daytona Beach Gator Club
Last year, the Gator Nation's "holler" helped push UF to No. 6 in university rankings. We all know UF belongs in the Top 5, so please give to your favorite college, cause, campus activity or any other area and be part of the push. And part of the fun — watch the leaderboards and the livestreaming all day.  
This year we have a direct link to the Daytona Beach Gator Club Scholarship Fund.   Participate in Gator Nation Giving Day while supporting scholarships for Volusia County high school graduates attending UF.  
Explore all of the areas to STAND UP & HOLLER here.
WE DID IT!
The goal was 20,000 contributions in 24 hours and the Gator Nation came through with 21,741 total contributions!
Your Daytona Beach Gator Club finished 14th on the Gator Club Leaderboard. Thank you to the following participants:
Avery and Bernie LeFils
Hank Coleman
Janet and Eric Peburn
Valerie
Dean Garrett
Kimberly M Masters
Nickie Lee Ball
Christopher Wainwright
Chris Andres
Robert Selover
Joseph Luckett
Valerie
Carre Mitchell
Lori Langin
Tom Pokorny
Emily Smith
Ken Phelps
C. Coleman Doikos
Stephanie Doikos
Dennis J Casey
Catherine Coleman
Tim Kostidakis
Anonymous