Welcome to the
Daytona Beach Gator Club
serving Volusia County since the 1950s
New Year... New Era!
As the calendar flips to 2019, the Daytona Beach Gator Club turns over a new a leaf as well! We welcome you to our new website as we share with you all of the exciting things happening locally in support of the Gator Nation.
Formerly known as the Volusia County Gator Club, we invite you to explore this website, follow us on social media and join us for one of our exciting events!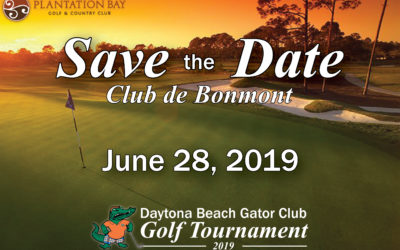 June 28, 2019Save the Date for the 21st Annual Daytona Beach Gator Club Golf Tournament.This year held at the prestigious Plantation Bay's exclusive Club de Bonmont course, the field is sure to fill quickly.Watch for registration to open soon on...
read more
The mission of the Daytona Beach Gator Club is to foster and enhance the relationship between the University of Florida, its Alumni, Students and friends in Volusia County, and to support the University's mission of teaching, research and service.