Throughout the year, the Daytona Beach Gator Club hosts various events designed to strengthen the influence of the Gator Nation right here in Volusia County. Our events range from our regular guest speaker series, to football game viewing parties, to our exceptional fundraising golf tournament. But they all have one thing in common: they bring Gators together!
Follow the Daytona Beach Gator Club on social media and refer to this page for information on all of our great events!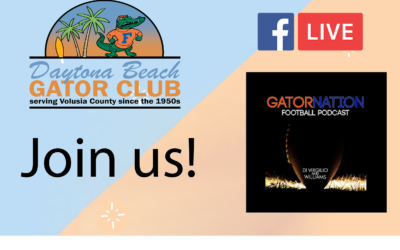 Join us for a conversation with the hosts of the popular Gator Nation Football podcast. UF grads Allen Williams and James Di Virgilio will join the Daytona Beach Gator Club in a Facebook live event: Thursday, October 22, 2020, at 7 p.m. To join the conversation, visit...
read more